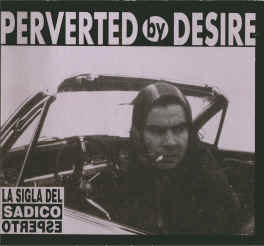 La Sigla del Sadico Esperto (1992)
released summer 1992 Vinyl
Shimmy Disc Europe
14 tracks 48:15
released summer 1992 CD
Shimmy Disc Europe
17 tracks 54:10
artwork:
Produced by Kramer
Egineered & Sequenced By Dolf
Recorded at ADM Koeienverhuurbedrijf Amsterdam august 26-30 1991
The Band:
Genis U: guitar, vocals, drum machine programming and tapes - K. Rel: guitars and keyboards - Bo Lemaitre: bass, sampler, tapes and vocals
Guestlist:
Dolf: demolition guitar, balalaika - Guy A3Aensen: slide guitar - Aad: accordion- Kali Mbangu: voice - Jankka Matilainen: acoustic guitar, voice - Anne Kahelin: vocals - Ahmed Al-Massoef: drums
Design and Photography: Design: Nasser verlag - Cover photo by Maria Lena Helin from the film ARIEL by Aki Kaurismäki Ó 1988 Villealfa Film Productions Oy - PbD photography by Jef Vannijlen
Lyrics and Music: By PbD, exept Pilvivärit by Jani J. Roppola - 15 September:Lyrics by PbD, Anne Kahelin, Jankka Matilainen and the Suosalo Sisters - Smile:Lyrics by PbD and Kali Mbangu
Press file:
PbD stands for sharp guitarnoise without compromise. No annoying straight on songs but inventive breaks, guitars cutting like plough shears and lyrics in 10 different languages in wich sex, politics and a certain 'mal de vivre' are important. Except for the exciting rocksongs like 'Kneedeep in Shit, 'Madam of the Mansion' or 'Kerosine', La Sigla also contains exotic folk, a hypnotising mantra and fascinating soundscapes who will only reveal their secrets after e few listening sessions. PbD: a group that combines profundity to an own vision. Un-Belgian Class. De Morgen.